Head over to your nearest Walgreens this week to snag Band-Aid Small Gauze Pads for only $0.44! These are perfect for any First Aid kit.
Buy 2 Band-Aid Small Gauze Pads $2.69
Use 1 $1.50/2 BAND-AID Brand of First Aid products (Excludes trial sizes & first aid kits) coupon (zip code 68130)
And, use 1 $1/1 Band-Aid Tape or Cover Products Walgreens coupon (Walgreens First Aid Booklet)
And, use (1) $0.50/1 Johnson & Johnson Gauze Walgreens coupon (May Coupon Booklet)
= $0.44 a piece!
Thanks, Wild for Wags!
Wow! Today is the last day to possibly score better than FREE Dove Travel Size Products at Walmart! Checkout51 offers and limits may vary from user to user so be sure to check your account!
Buy up to 10 Dove Beauty Bars Travel Size around $0.97
Get $1.50 back wyb Dove Beauty Bars with Checkout51 (expires 5/27 – possible 10 limit)
= As low as FREE + money maker!
Buy up to 10 Dove Deodorant Travel Size around $0.97
Get $1.50 back wyb Dove Deodorant with Checkout51 (expires 5/27 – possible 10 limit)
= As low as FREE + money maker!
Buy up to 10 Dove Shampoo or Conditioner Travel Size around $0.97
Get $1.50 back wyb Dove Hair Care with Checkout51 (expires 5/27 – possible 10 limit)
= As low as FREE + money maker!
Buy up to 10 Dove Body Wash Travel Size around $1.47
Get $1.50 back wyb Dove Body Wash with Checkout51 (expires 5/27 – possible 10 limit)
= As low as FREE + money maker!
Thanks, Hip2Save!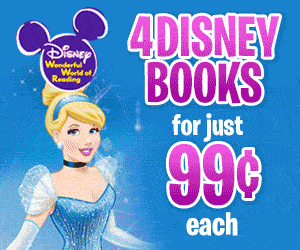 + FREE Activity book & Coloring printables
+ FREE Shipping! 
The magical story of Disney's Cinderella shows young readers that true goodness and purity of heart will ultimately be rewarded, and that with enough hope, friendship, and love, anything is possible. In celebration of Cinderella's 65th anniversary and the opening of Disney's live-action movie, get Cinderella and favorites for 99 cents each plus a free activity book and coloring printables with promotion code MIDNIGHT.
Go HERE to get yours!!
You love snacking. But you want to feel good about the snack you love. You hunger for delicious ingredients with a satisfying crunch, but also a touch of sweetness. Made with roasted almonds and whole grain popcorn dipped in creamy milk chocolate, you've got a poppable bite-size snack that will keep you coming back for more. And more will never feel like too much.
It's not exactly almonds. It's not exactly popcorn. It's not exactly milk chocolate. It IS exactly every snack you've always wanted. It's Fisher® NUT EXACTLY™ Snack Bites!
15 to 16 delicious calories per snack bite and available in four delicious varieties:
Almond Popcorn Dipped in Milk Chocolate
Almond Popcorn Dipped in Dark Chocolate
Pecan Popcorn Dipped in Salted Caramel
Peanut Popcorn Dipped in Peanut Butter
Go HERE to print your coupon!
Go HERE to sign up for Zulily.  Than head to the Last Chance tab and you will see three different Blow-Out sections – Women's Accessories, Toy & Books, Rugs & Linens  + If you scroll through the pictures you will see a few more Blow-Out sales as well!
These items are as much as 90% off!
The below is a picture of a kitchen that is only $14.99, regular $45!!
*~*~*~*~*~*~*~*
Shopping at Zulily is like opening a new treasure chest every day.
You never know exactly what you'll uncover, but you know gems are waiting. The day's bounty might be whimsical. Classic. Trendy. Eco-friendly. Educational. Or just plain cute.
Zulily events open at 6am pdt and usually last 72 hours (some are one-day sales). After that, they scoot away to make room for new events. Inventory is limited and items often sell out, so shop early every day. That way, you'll have the widest selection.
Check back every day: Zulily will send you an email each morning, announcing the day's events. Think of it as your treasure map.
*~*~*~*~*~*~*~*

$9.90
Product material: environmental protection material, 100% safe

It's easy to assemble.When you finish the assembling,the size is about 41*35*17 cm

This shopping cart contains many parts

Mini size(41*35*17 cm)and light,safte for children,Toy for Toddler

Everything Needed for a 'Perfect' toy!

Great gift for a 1 year old!!
*~*~*~*~*~*~*~*~*~*~*~*~*~*~*
Sign up for Amazon Prime 30-day Free Trial
Amazon Prime is a special membership program that offers participants premium benefits for just $99 per year. You receive the ability to watch over 40,000 Movies and TV episodes, anytime. Plus, receive FREE two-day shipping on mainland on millions of products with no minimum order size along with access to the Kindle Owners' Lending Library.
with code EXTRA20
Restrictions apply. Ends 5/29/15.
Men's Sale boardshorts starting from $33, use promo code EXTRA20 = $26.40
Men's SaleTops starting from $14.74, use promo code EXTRA20 = $11.80
Women's Sale Swimwear starting from $19.77, use promo code EXTRA20 = $15.82
Go HERE to shop now!
$6.99 Value for FREE!

Each graze box is made up of perfectly portioned snacks customized for each individual based on taste preferences and dietary requirements. Available as a weekly or bi-weekly delivery nationwide to your office or home. Several different box options that showcase an assortment of 100+ snacks including the Variety Box, Sharing Box, Calorie Count Box, Sugar Count Box, and more.
Go HERE to get your first box for FREE!  Which will be a 4 snack sampler box!  Yes they do ship to Hawaii!
You will be enrolled into the bi-weekly subscription but you can cancel at anytime.
Click the banner above to build your Disney Side stick figure family and order a free decal. Yes it is in Hispanic but many of you missed it when it was available in the past.  So Hurry and click the banner above to get your  FREE Disney Stick Figure family decal